If you're considering a destination wedding, then Gozo could tick many of the boxes that are most important to you. With year-round sunshine, beautiful beaches, excellent cuisine and luxurious resorts, you will find everything you need to craft the wedding you have always dreamed of. The Island can host a variety of wedding ceremonies, including civil and religious weddings, and civil partnerships. There's also a plethora of venues to choose from – from stunningcoastalsettings to luxurious yachtsand lavish five-star hotels.

If you'd like a helping hand, we as wedding planners are available to assist you with the planning of your big day. We will arrange all the little touches that will make your wedding absolutely perfect. Meanwhile, elements of Gozo can also be incorporated, such as traditional horse-and-cart transportation, popular local dishes and locally-sourced wedding favours. Once married, the 'going away' ritual is a memorable moment. So whether you choose a horse-drawn Karrozzin, a sleek limousine or even a traditional Dgħajsa boat in Valletta's Grand Harbour you'll be sure to enter your married life in unforgettable style.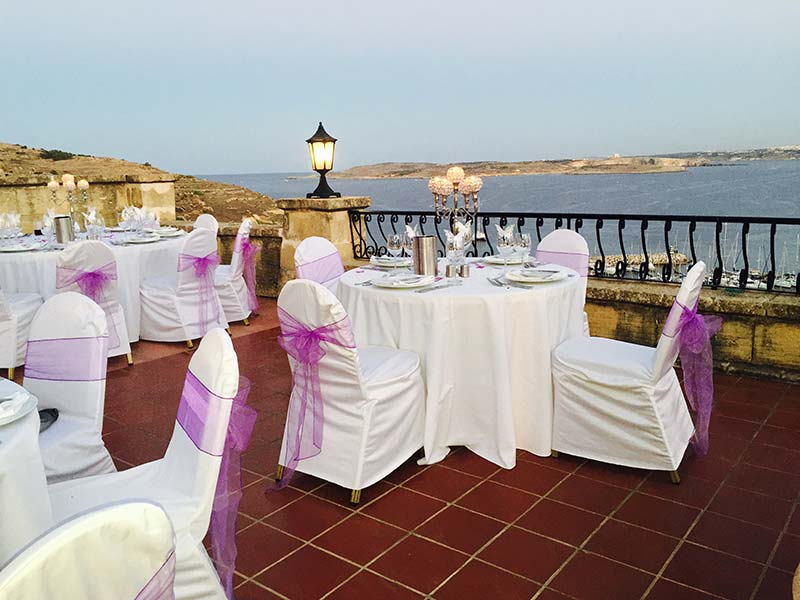 Deciding on the perfect venue is a challenge. Do you have your reception at a hotel, a catering hall, an estate or perhaps under a tent in a gorgeous garden setting? The decision, of course, depends upon the time of year, the number of guests, your budget, etc. But there's another great option to consider, for all you fashion-forward foodies, Country Terrace offers an intimate environment along with a fantastic meal and an amazing view. Think about it — you'll enjoy a cosy atmosphere, amazing food and the cost will undoubtedly be considerably less than having your reception at a much larger venue.
If you are looking for a cosy, intimate and classy setting and want your guests to have a memorable gourmet experience, the Country Terrace Restaurant is the right pick for you. The Country Terrace restaurant can accommodate both small receptions, and large receptions up to 250 persons. With stunning views of Gozo's main Mgarr Harbour the Counctry Terrace Restaurant offers you the perfect setting for your memorable day. Our wedding menus can match all budgets and offer a wide selection of delectable dishes and sweets.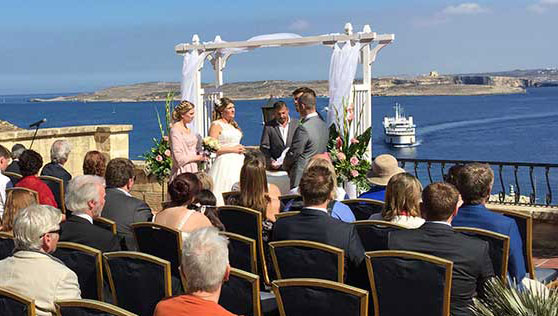 Romantic Honeymoons
Your honeymoon should be one of the most romantic holidays you ever experience, and that's exactly why Gozo is the perfect place for you to start your married life. And you won't be alone in your decision – world-famous superstars Brad Pitt and Angelina Jolie recently chose to spend their honeymoon in Gozo, and they whiled their days away exploring the island and enjoying the facilities at their traditional farmhouse accommodation. From unabashed luxury to uncharted territory, Gozo provides all the ingredients for an unbeatable honeymoon in the Mediterranean. You can combine historic discoveries with adrenaline-boosting adventures, and days by the pool with a sunset cruise around the coast. It will be the perfect you-time for the two of you.
Organization
Flexible and able to tailor-make a package that suits all kinds of tastes and viewpoints; we at the country terrace restaurant can offer both civil and religious ceremonies. In either case the legal formalities are relatively simple and can even be done in advance from your home country.
Accommodation
Country Terrace is geared up with joint ventures to keep you and your guests feeling well-cared for in comfort and style whatever your needs are. Rooms reserved for a quick nap once your guests get into town. We do everything from welcome receptions, and local options for getting around to after-glow parties and next day-brunches. Best of all, you will find our hotel rooms, meet-up places and amenities available for wedding guests almost anywhere you can think of.
---
---
Tuesday to Sunday:
Lunch: 12.00PM - 2.30PM
Dinner: 6.00PM - 10.00PM
Mondays Closed
(Contact us for exceptions)
Street parking facilities available.
We are also pet friendly!
Country Terrace Terms & Conditions
---
---

Zewwieqa Street, Mgarr Gozo, Malta

(+356)21550248

(+356)27550248

(+356)99446833

info@country-terrace.com